Affordable care, welcoming environment.
At Best Pets Veterinary Hospital we recognize that pets are family too! Dr. Heidi Tapscott and associates strive to provide affordable veterinary medical and surgical care for your pet in a comfortable and welcoming environment.We couple this with a truly caring attitude and a friendly, knowledgeable staff that wants to keep your pet healthy and safe.
Best Pets Veterinary Hospital serves pets and their owners in the Tewksbury, Wilmington, Billerica, Burlington, North Reading, Reading and Woburn areas. The hospital is set up for both complete outpatient and inpatient hospital care when needed for your pet. Best Pets Veterinary Hospital also provides a full range of surgical and dental procedures for your pet.
---
We're one big family!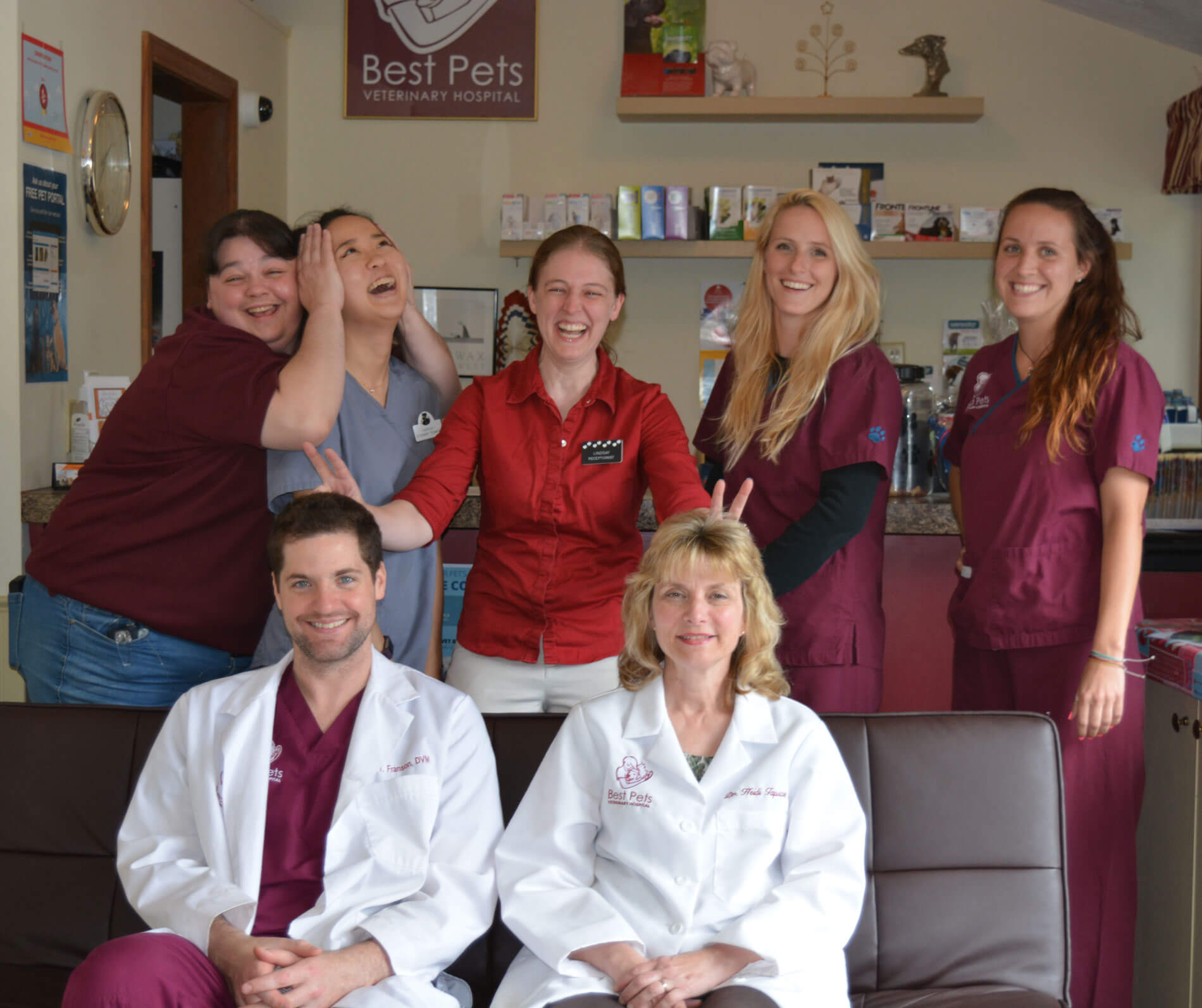 The team at Best Pets Veterinary Hospital understands the family bond you have with your pets. We're here to provide skilled care with compassionate service.
---
10 Questions with Heidi Tapscott DVM
How Long Have You Been In Business?
Since February 2013
What Is Your Experience/Business Background?
I received my BS with honors from Cornell University in Biology and then earned my Doctorate degree in Veterinary Medicine at the University of Florida. I have practiced veterinary care for 23 years in many towns in Middlesex and Essex counties. I have learned best practices and a have gained a wealth and range of experience from six different veterinary hospitals and also provided relief work for twelve other veterinary hospitals. These practice owners chose me to run and manage their practices while they would go away on vacation. Several of these practices still contact me to help solve difficult cases.
What Is Your Business Philosophy?
I always individualize the treatment plan on not just the pet as patient, but include many factors related to the client. For each client I factor in: their ability to treat the pet; their time restrictions; the home environment; and the client's budget. I believe in being an integral part of the community (Chamber of Commerce, Rotary Club, Church Fairs, Local Cat Rescue, High School Career day, etc.). I believe in working with other local business whenever possible and have already used over twenty Tewksbury/Wilmington businesses to help build and grow my practice.
What Is Your Favorite Part Of Your Job?
Meeting people and their pets and sharing in their relationship.
What Are The Biggest Challenges You Face?
Veterinary medicine has benefited from amazing advances in technology. Examples include MRI, Surgical implants, and cancer treatments. However it is difficult to keep them available to all customers and keep all care affordable.
What Makes Your Business Unique In Your Industry?
I make the effort to identify and treat the underlying problem which winds up keeping pets healthy and addressing causes sooner. This costs the pet owner less in the long run.
What Is The Most Unusual Experience You've Had With a Client/Customer?
Once a middle aged Cocker Spaniel came in to be euthanized because he was told by a specialist elsewhere that the pet had a large tumor. I performed surgery only to find a tennis ball in the stomach/liver area. Noah is still alive and fetching tennis balls.
What is One Word People Use To Describe You?
Integrity
When You Were a Young Child, What Did You Want To Be When You Grew Up?
A news reporter
If You Were Given $100,000 To Invest In Your Business, How Would You Use It?
A local dog park for Tewksbury and Wilmington and a fund to aid homeless cats.